Add your review
Calcium vital tabletten
Calcium vital tabletten
VoedingssupplementInhoud: 90 Calcium vital tabletten in de vorm van citraat (250 mg) met vitamine D3 (10 mcg) voor een betere opname van calcium. Read more
Description
Calcium vital
 tabletten
Calcium vital bevat calciumcitraat, omdat deze vorm van calcium goed door uw lichaam wordt opgenomen. Daarnaast is er vitamine D3 toegevoegd aan de Calcium vital tabletten, dit verhoogt namelijk de calciumopname in uw botten. Calcium en vitamine D3 dragen ertoe bij dat u sterke botten en tanden heeft.
Omschrijving: Voedingssupplement
Een gevarieerde evenwichtige voeding en een gezonde levensstijl zijn belangrijk. Voedingssupplementen zijn geen vervanging van een gevarieerde en evenwichtige voeding.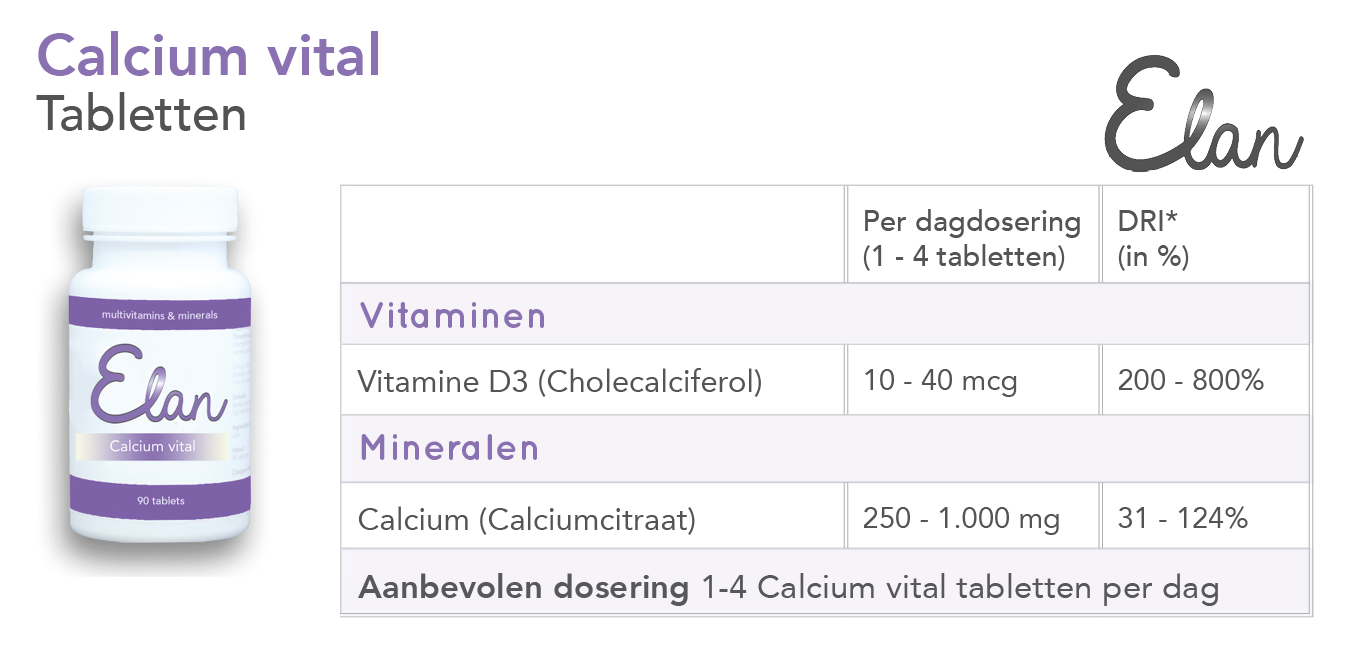 Ingrediënten: calciumcitraat, vulstof (E460), antiklontermiddel (E470b), glansmiddel (E464, E553b, E422, E903), cholecalciferol. Het product bevat geen toegevoegde lactose, gluten, smaak-, kleur- en geurstoffen.
De Calcium vital tabletten van Elan zijn halal gecertificeerd. 
Bewaaradvies: Beneden 25°C en op een droge plaats bewaren. Buiten bereik en zicht van jonge kinderen houden. Dit voedingssupplement is niet geschikt voor kinderen onder 10 jaar. 
Aanbevolen dosering: Elke dag 1-4 Calcium vital tabletten innemen, bij voorkeur tussen de maaltijden of 's avonds. De tabletten met voldoende water innemen. De aanbevolen dagelijkse dosering niet overschrijden. Raadpleeg uw arts voor advies. 
Nettogewicht: 129 gram
Inhoud: 90 Calcium vital tabletten
ZI-index Calcium vital tabletten: 16798740
De Calcium vital tabletten van Elan zijn met de grootste zorg bereid. Mocht u toch nog vragen hebben, dan kunt u deze stellen aan Elan door een e-mail te sturen naar: [email protected] of [email protected] 
De (medische) professionals van Elan staan voor u klaar om uw vraag te beantwoorden. Elan zal er alles aan doen om uw vraag zo spoedig mogelijk in behandeling te nemen en te beantwoorden. 
0
stars based on
0
reviews